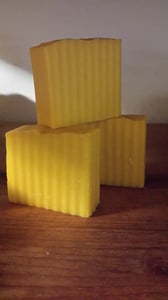 $

4.50
Jojoba is very similar in composition to the oils in our skin so it is very easily absorbed to nourish, soften and moisturizes mature
and dry skin. Fresh juiced organic carrots are used to nourish and heal skin cells with its high content of Beta Carotene and Vit. E.
Shea butter is added to help sooth skin problems such as Eczema,
Rosacea and Psoriasis. This bar is mild enough for the Face but can
be used as a body bar for sensitive skin. Chia seeds are added to gently exfoliate.